Testimonials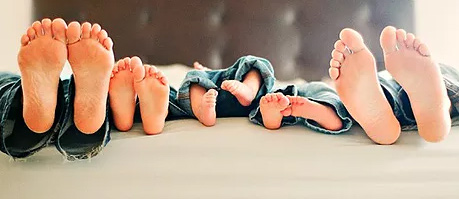 We believe that we can all learn from one another's health experiences. Therefore, this is section is dedicated to how reflexology has helped to restore health to others. On these pages you will find testimonials:
– from fellow sufferers around the world, on how Reflexology helped them and/or how physical activity and exercise freed them from their back pain,
– from fellow Reflexologists themselves, describing some of their interesting back pain cases,
– and from other health care providers, on their professional or personal experiences with regard to Medical Reflexology.
Chronic Stress
"…I have been living with chronic stress, high blood pressure, varicose veins and tiny deep scores for the past 8 years. The colors of both of my feet were very dark and painful. When I went for my very first visit in March, I was so full of pain and after 3 hours in the therapy rom, I came out feeling relieved and nearly pain free. I gladly continued therapy and after a while, I noticed my blood pressure had regulated and my stress levels improved significantly. My sores have also started healing thanks to the essentials oils I received…I just want to say Thank you Anaya! I'm glad I found Reflexology …"
Sandra
Poor Circulation
"…For a long time I have been having problem of poor circulation and water retention which has defiled medication and the condition gets worse whenever I travel and as a Missionary I am always on the move. I arrived in Trinidad last week with swollen feet due to the long flight.
I was introduced to Anaya Tonni that night and she insisted I start treatment immediately because of the pain and discomfort I was going through. In the morning after the treatment, I felt so light and noticed the swelling on my feet had gone down and even my calf that was hard became soft.
After two more therapy sessions my whole body system changed. The swelling on my feet disappeared, my circulation improved, my energy level increased, acid reflux reduced and my sleep improved. I also noticed that I did not suffer jetlag this time as compared to other time that I travel from country to country. I was skeptical at first but I Thank God for Reflexology…"
Sister Grace , African Missionary
Migraine
"…My entire family, have been regulars at the reflexology health and wellness Centre. I'm glad to say that reflexology took away my migraine problems and menstrual cramps, my mum's acid reflux and poor circulation, my sister's asthma and my uncle's stress. Thanks Feet lady…"
Jenny
Stiff Knee
"…Some years ago, I had a fall which shrank my right foot and caused the knee joint to become persistently stiff and painful with no flexibility, leaving the right foot shorter than the left foot. I visited the feet lady after hearing her on a radio station. After the first treatment session, there was a lot of improvement in my overall health, the pains and swelling on the ankle reduced, the stiff knee loosen up and gradually begins to stretch and I noticed I can walk without limping and the right foot is no longer as short as it was before. My blood pressure has also begun to regulate as well as the hormonal imbalance, I feel relieved and my skin tone has improved…"
Chirlen
Chronic Body Pain
"…My wife has been with chronic body and knee pain for a long time. She sleeps with pain and wake up with pain. The knee pain caused her to limp and it was difficult to sit down or stand up without pain. She was placed on pain killers and used all kinds of remedy to relief the pain. From the first visit to the Feet Lady, her health improved, knee pain reduced, she was able to move freely with less pain, sleep & wake without pain and a general improvement of health and wellness – glory to God!…"
Dexter
Severe Body Pains
"…My mum fell on the step some years ago and developed severe body pains that reduced her physical activities and gradually she almost become bedridden. She was placed on pain killers and used all kinds of remedy to relief the pain. On her first visit to the Feet Lady, she had to stand until she was attended to because it is a difficult task to sit down due to pain and she did not want to embarrass herself. She could only walk with the assistance of somebody on one side and a walk-stick on the other side and had to be assisted to climb the therapy bed. At the end of the therapy session, she was able to come down from the bed without assistance, as she stood up took a step and noticed she could walk, she burst into tears. She was able walk without help for the first time in years. To God be The Glory – Great Thing He Has Done!…"
Janet
Stress Relief
"…thank you for such a great reflexology session…a first for me, I didn't know what to expect. Afterwards, I left 'unblocked' as if my stresses had been released – and it totally surprised me. Thank you for helping me return to a freedom flow, truly – thank you…"
Desiree, Westmoorings
Lymph Reduction
"My oncologist…was very pleased with your work. He suggested that I continue with the foot and hand reflexology that you performed this Monday. You can quote me on that. Doctor was pleased with the lymph reduction in my arms and upper back."
Belle, Diego Martin
Lower Back Pain Gone
"I want to tell you that since our session on Friday, I have not had the lower back pain that I usually have. I became aware of this last Saturday and was surprised by it. And, it still has not returned."
Laura, San Juan
Diabetes and Osteoarthritis
At a demonstration by Adriana 12 months ago I volunteered as a patient. I arrived in a very stressed state suffering among other things osteoarthritis in my back. It was very difficult to walk and at times I was confined to a wheel chair. After one treatment I was delighted to find I could almost stand up straight again and most of the pain had gone from my back. Over the period of treatment the nerve pain I have suffered in my feet and legs from Diabetes has eased. Thanks to the continuing treatment by Adriana life has become enjoyable once more.
Ron, Tunapuna
Sciatica Relief
Down through the years I have suffered periodically from sciatica. This problem first manifested itself while playing with one of my children and because of the fact I was an active young father. I suffered on, applying various medical creams until the problem ceased. I have always been fairly active walking, gardening and various exercises however, my back pain invariably returned every so often. One of my daughters became interested and qualified in reflexology and since then due to having regular sessions, my sciatica has become a painful memory. I should advise people that the first two sessions were fairly severe but the result was definitely worth it. I would also advise people to keep exercising and practice yoga.
Eugene, Woodbrooke
Helping Clients
Hello, I Am a reflexologist trained by the International Institute of Reflexology and am continually amazed by the results I have when helping clients with back pain. Many clients come to me after they have seen doctors and chiropractors and find no relief. They are astounded by the way they feel after trying reflexology. Not only do clients have the physical pain that back pain presents but also emotional feelings that need to be considered. Many feel frustrated, upset and exhausted by the way the condition makes them feel and it is important to take these feelings into account when treating the client. It is very rewarding to see a client leave after a course of treatments, having helped them with their back pain but also with a smile on their face. Thank you so much for this informative website, a great resource for all reflexologists and sufferers of back pain. Keep up the good work.
Kelly H., I.I.R, M.A.R. T.A.Th, in Arima
Back Pain and Migraine
A friend recommended Reflexology to me- I have been suffering from severe back pain for four years. After some treatments, I felt the pain greatly reduced and my migraine headache stopped. As I continued going for therapy, the pain has decreased tremendously and life has returned back to normal. Thanks to Reflexology.
Jason – Arima
Chronic Sinusitis
I was introduced to Reflexology as my sinusitis was beginning to affect my job. After some sessions of Reflexology treatment, I noticed a great improvement and reduction of nasal congestion and mucus secretion.
– Molly, Chaguanas
Lupus
I was diagonised with lupus over twenty years ago. I am always in pains and had no appetite for food. Reflexology gave me hope. I observed positive changes from the Reflexology treatment, I regained appetite and the pains have become less. I started socializing once again. Reflexology has brought back meaning into my life.
– Zera Diego Martin
High Blood Pressure and Diabetes
I have been living high blood pressure and diabetes as a way of life. Reflexology has regulated my system. I am more relaxed, sleeps better and above all, feeling of numbness on the sole of my feet has disappeared. Reflexology is mother nature taking care of her children.
-Nobert, San Fernando